McKinleyville Transfer Station
NEW Transfer Station NOW OPEN for public dumping! We accept most forms of non-hazardous waste at our transfer station in McKinleyville. For a list of items that we accept, as well as current rates, please see below. For all forms of hazardous waste not mentioned on this page, please contact the Humboldt Waste Management Authority in Eureka.
2585 Central Avenue
McKinleyville, CA 95519
(707) 839-3285
Office Phone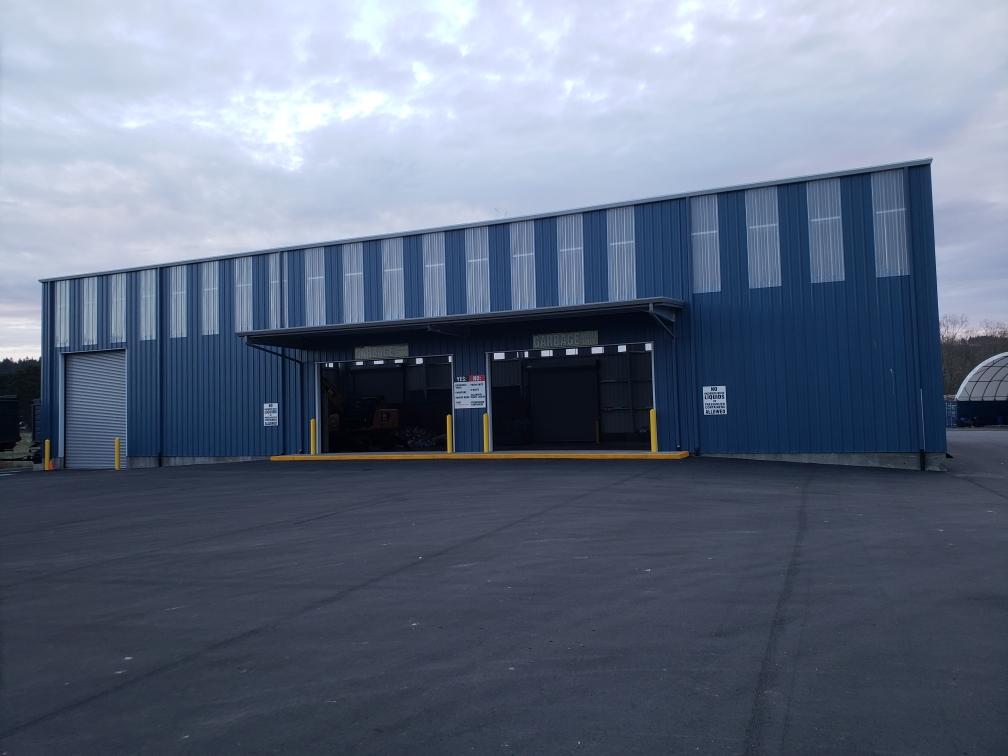 Open 7 days a week
9 AM - 5 PM Monday -Saturday
9 AM - 4 PM Sunday
Construction & Demolition Waste
All types of non-hazardous construction waste accepted.

NEW CA LAW EFFECTIVE 1/1/21 - TREATED WOOD WASTE IS NOW CONSIDERED HAZARDOUS WASTE.

Please visit
Treated Wood Waste - Where To Take It
for more information about disposal options
. 
Residential & Commercial Waste
All types of non-hazardous residential and commercial waste accepted. Can we take it? Call our office today to find out.
All Non-Hazardous Waste Accepted

Residential, commercial, construction, e-waste and green waste.

We Accept Bulky Items

Couches, mattresses, non-freon appliances, etc.

Metals

Such as steel, iron, etc.

Green Waste

Shrubs, lawn trimmings, brush, etc.
Automotive Products

Used motor oil, and anti-freeze max 5 gallon per person per day

Electronic Waste

TV's, computers, laptops, dvd players, microwaves, cell phones,  printers, etc.

Batteries

Household batteries (No charge), Car batteries (Charge $1.00 per battery)

Sharps / Needles

May be dropped off at no charge but must be contained in an authorized sealed sharps container (available in our office or at any local pharmacy)
Hazardous Waste

Questions regarding hazardous waste should be directed to the Humboldt Waste Management Authority
Remote Humboldt County Transfer Stations
Hwy 101, just south of Orick. If traveling north, the station is on the left side of the road.
Orleans (Thu - Sun: 10-4)
Hwy 96, just before the bridge over the Klamath River turn left on Ishi Pishi Rd.
The station is 2 miles down on the left side.
Willow Creek (Thu-Mon: 10-4) (CLOSED MONDAYS Nov-Apr)
Hwy 96, 4 miles north of Willow Creek.
Redwood Valley (Sun: 10-4)
From the junction of Hwy 101 and Hwy 299 go 18 miles east on Hwy 299. Turn left on Bair Rd, follow for 3.9 miles. Bair will turn in to Stover Rd. follow for an additioinal 4.4 miles. The station is on the right side.
McKinleyville Transfer Station Rates
0.12 per lb with a $12 minimum for Trash.
0.08 per lb with a $8.00 minimum for Green Waste.
0.08 per lb with a $8.00 minimum for Metal
5.00 flat fee for T.V's and computer monitors
$0.40 per lb with a $5.00 minimum for other e-waste